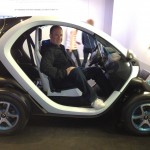 As an entrepreneur and business person you always wonder what's the next big thing? On a recent trip to Paris I spotted a 2-seater car from Renault called the Twizy!
The first impression is that the car is very cool, trendy, and fun! When we went into the Champs-Élysées showroom the presentation was impressive with many colorful Twizy's throughout the floor as well as a full screen video (see below), computer displays to make custom orders, and alot of buzz to compliment this new offering.
At a closer look I found out that the car, which is built in Spain, is being released in April 2012 with three models starting at €6,990 up to €8,490 (in the UK: £6,690 to £7,400) or about $10,000 USD.
The rear-engine car is part of Renault's plans with Nissan to rollout a broad range of electric cars which will include other models called Fluence, Kangoo and Zoe which are expected in Europe in 2012 and beyond.
The Twizy, Zoe, and this line of cars, is of particular importance because it will have a "swappable battery pack" (a.k.a. QUICKDROP charging) so that the cars' owners will be able to take advantage of battery-exchange stations such as the ones battery-infrastructure developer Better Place is building for locations such as Israel, China, Japan, Denmark, Australia, North America, European Union, and around the globe.
The initial Twizy's will have standard electric recharging of a leased battery but overtime will take advantage of the QUICKDROP system.
So the Twizy looks great… It supports a niche in the marketpace when you consider the multitude of bikes, scooters, cycles, and small vehicles (i.e. SMART) being used in cities and with short-range commuters…  So who will use it?  A few insights include:
City workers looking for a ride across town
Hertz's announced they'll include it in their Green Collection, whose vehicles on average deliver fuel economy of about 55 miles per gallon
Young (and old) trendsetters who either want a first vehicle to get around town or a second one for fun and to take advantage of an electric vehicle
So while the Twizy is certainly not for everyone, it does capture the imagination on an emerging way to travel. There's a huge number of people who commute or do short trips to the grocery store and only need to spend an hour or two in their car.
In the future, with the battery swap packs, owners will be able to swap out new batteries by going to a QUICKDROP stations, plug in at home, or at electric docking stations which are emerging in the United States (i.e. Malls) and which are much more visible on the streets of London and Paris as exclusive parking spots for electric only vehicles.
So while the Twizy will not be in the US in 2012, if it takes off in European cities such as Paris, Madrid, London, etc. then you can expect to see it or models like it over the next few years. The Twizy is the "fun car" in a line of new models which have a very good chance to make an impact both now and over the next few years.
Check out the official YouTube video (below) that Renault presented on a full screen in the showroom which is known as a "pop of serenity!"
Are you ready for the Twizy and the rechargeable technology amidst rising gas and oil prices!? Or do you simply like the idea of having some fun with this new, trendy, transformational car?