So often well intended investments in webinars, seminars, conferences, demand generation and other marketing and partner programs adds value, but unless it can be measured by way of revenues it can be under appreciated.
The WorkSpan approach of providing a platform for "Joint Marketing" and "Joint Sales" is an ideal way for 2 or more organizations to work together on deal qualification and sales cycles.
Consider 2 companies co-sponsor a marketing or partner program. It would be ideal for the account teams in both organizations to have access to the leads as well as the qualified sales opportunities.
CRM systems alone are not the answer in that proprietary information cannot be shared outside the organization. Only with a Joint Marketing & Joint Sales system can this approach be optimized.
What's the alternative? emails? Phone calls? Texts? Spreadsheets? Social Media tools with disparate, disorganized threads of discussions?
Keep in mind the importance of privacy, security, and that the lead Account Executive wants and must control who participates and who doesn't. Trust must be built. Often change management is key to addressing new ways to win deals.
A few questions / comments to consider:
How often does a sales pursuit include 2 companies and often a third (or more)
How can you optimize 2 (or more) talented organizations going after 1 important deal?
There can be 1 company with 10 deals and 10 different partners for each… how best to manage the various partners pursuing these deals?
And for every deal an account team pursues, the participants inside and outside the organization can change throughout the sales cycle.
As WorkSpan states, "Where you & your partners can nominate joint accounts to pursue, track deals, & report on partner contribution to revenue." This platform and the methodology that goes with it is an excellent way to bolster measurable outcomes.
When marketing and strategic alliances professionals ("aces") have measurable success they will make their manager and organization happy, gain more trust, increase investments in future programs, and have better control of important outcomes.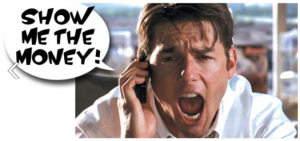 When you and your team achieve "Show Me the Money" status with revenues aligned to marketing and partner programs, more investments can be considered, more customer success can be developed and showcased, and the most important value of them all can be optimized: TIME.
Like